Easy Christmas Tree Brownies Best Family Recipes – So. Sparkly. Would you wish to purchase everything? (It can not just be me that feels like that?) Once I was in college, my sister and I shared a townhouse and also the very first Christmas we spent together, we moved into the hardware shop and purchased a Christmas tree, tinsel and also a lot of decorations to place on it. And I mean a Great Deal of decorations (and lighting for that matter)
It was the very first time we had been allowed loose down the sparkly Christmas aisle, and we fell in love with what we saw. There was not an empty branch on the entire tree from the time we were all done! We had been so pleased with our tree we called my parents, as well as our grandparents, and invited them over for dinner at night, so they might respect our first Christmas tree.
It was lots of money for us since we were still students, but it made us SO HAPPY. It's 15 years later, and that is still the tree that my husband and I set up, together with half of those ornaments (and obviously a few new ones). My sister and I divide the ornaments in half, and there is still more than sufficient for every one of us to decorate our trees!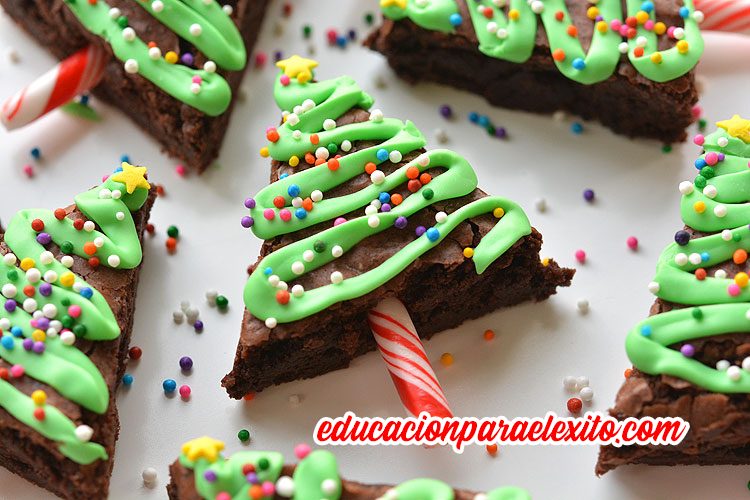 Like that very first Christmas tree, these brownies make me SO HAPPY! Can there be anything more delicious than the mix of chocolate and peppermint? Mainly whenever there are icing and sprinkles involved? I didn't think so. It's pretty much guaranteed to brighten your day.
Easy Christmas Tree Brownies
The whole printable recipe and directions are at the bottom of this post. You can create these from scratch if you want, but I just used a boxed mix and a tub of store-bought icing.
Start by lining an 8″ x 8″ square baking pan with aluminium foil and then spray it with cooking spray. Bake the brownies according to the package instructions and let them cool completely. I waited about an hour and a half, and they came out of my pan no issue.
This next part kind of blew my head just a little bit. I was having difficulty visualizing the triangles, therefore I used skewers to get them set up. There wasn't an superb method to indicate where to cut, so I figured as best I could. The skewers were just a diagram to help me envision it. I took them off until I cut it.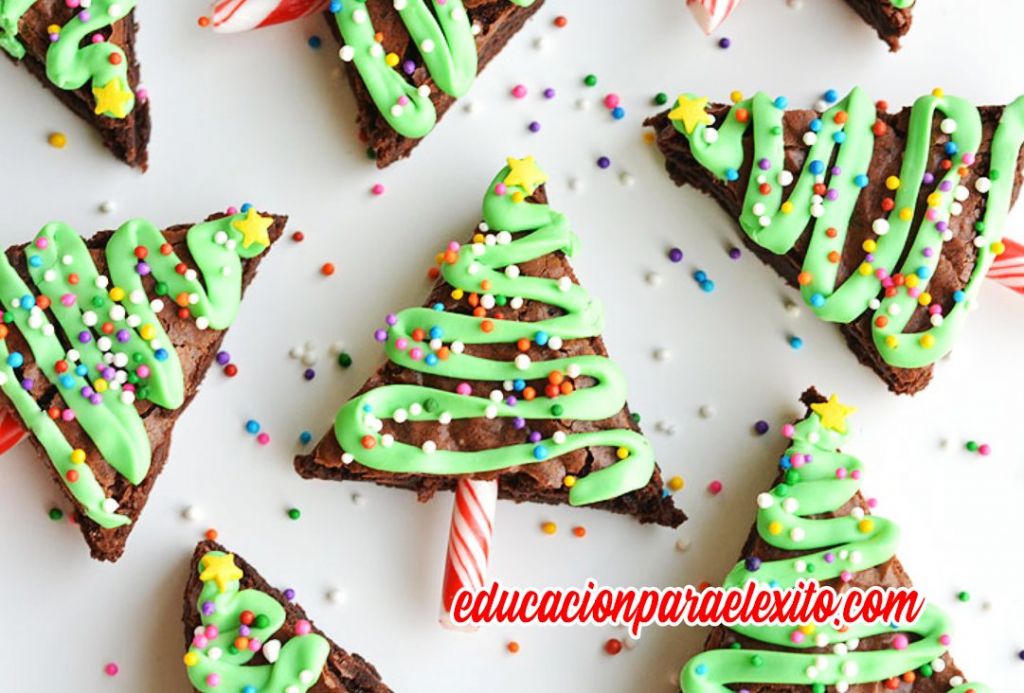 You may see in the picture below my triangles aren't perfect. Oops! I needed to trim some of these in the appropriate shape following this photo. I cut some of the advantages into triangles too, but the girls and I only snacked on the scrap bits that could not be utilized.
You do not need icing very much. 1 half of this bathtub was plenty, and even then, I still had leftovers. Add green food colouring to the white icing. Just keep stirring till you're pleased with the color. Spoon the icing into a zip lock bag. Seal the bag closed and then cut the corner off of the bag using sharp scissors. Beginning at the peak of the tree, lightly squeeze the icing out of the pack moving in a curvy zigzag as you go down the tree. Then add your favorite sprinkles on top. I love the little yellow star sprinkles! I used them in my Peanut Butter Cup Christmas Trees as well, and they include some superb personality! I bought these from the bulk store, however you can purchase them from Amazon if you have trouble finding them in shops. I thought these were cute on their own, but my husband thought they needed a tree trunk.
And he was right! So I cut up some of the leftover candy canes in the Candy Cane Reindeer we made last week and pushed them into the bottom of the brownies, and voila! In retrospect, it might have been much smarter to add the candy cane tree trunks into the brownies until I inserted the icing. It was a bit difficult to manoeuvre them without wrecking the icing. Do not they look fantastic, however!? Easiest treat ever! Here is the step by step, printable recipe, just in case you need it!
Ingredients
One box Brownie Mix
One tub white vanilla icing
green food colouring
small round sprinkles
small star sprinkles
candy canes
Instructions :
Line an 8″x8″ baking pan with aluminium foil and spray with cooking spray.
Prepare the brownie mix according to the package directions and bake as directed.
Allow brownies to completely cool, approximately 1.5 hours.
Remove the brownies from the pan, and cut into triangles. (Cut in three rows, then cut in alternating diagonals, as in the photo shown above).
Unwrap the candy canes, and use a sharp knife to gently cut/break the candy canes into 1.5″ long pieces.
Press the sharper end of the candy cane into the bottom of the brownie triangles.
Spoon out approximately ½ of the tub of icing into a bowl.
Add green food colouring until you're happy with the colour.
Spoon the green icing into a zip lock bag.
Seal the bag and cut off a small corner of the pack with sharp scissors.
Starting at the top of the brownie triangles, gently squeeze out the icing in a curvy zigzag as you go down the tree.
Add your favourite sprinkles and a small star sprinkle at the top.
Enjoy!