Rustic Chicken With Garlic Gravy Easy Recipe Christmas – This one-payou'recken with sausage dinner is so delicious. You're sure to make it a regular on your own household! The chicken is moist and browned, as well as the sauce is rich and filled with garlic. But you'd never know it, because the garlic also gets browned and softened and changes into sweet pieces of flavour, like the beautiful mellow flavour of roasted garlic.
If you are like me, the thought of separating and peeling the 20 cloves of garlic for this recipe is not super attractive. I picked up a purse of the pre-separated and peeled sweeteners in the grocery store for about $1. Money well spent if you ask me And again, don't worry that you won't be able to leave the house for days after eating this. Like roasted garlic, this garlic becomes very mellow.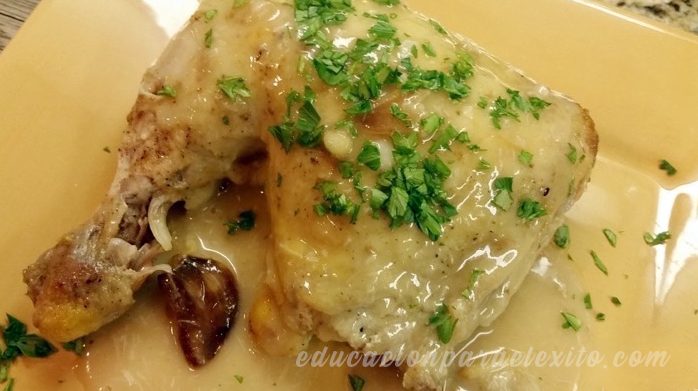 Rustic Chicken with Garlic Gravy
Prep Time: 15 minutes
Cook Time: 30 minutes
Total Time: 45 minutes
Servings: 6 individuals
Energy: 144 kcal
A tasty one-pan meal that's delicious served with mashed potatoes, rice or rice, to take advantage of the delicious gravy. To spare yourself the chore of separating and peeling all of that garlic, look for pre-separated/peeled garlic cloves from the produce section of your supermarket.
Ingredients :
2 Tbsp cooking oil vegetable, canola etc
Six pieces skin-on/bone-in chicken thighs (could use any skin-on chicken, such as breasts or drumsticks )
Salt and freshly ground black pepper
20 cloves garlic separated and peeled (2 full heads)
2 Tbsp all-purpose flour
3/4 cup dry white wine anything you would drink
1 cup chicken broth
1 1/4 tsp fresh thyme leaves (or about 3/4 tsp. dried thyme leaves)
2 Tbsp butter
Imperial – Metric
Instructions
Heat the oven to 400° F (205C) with rack in centre of oven.
Within a oven-safe Dutch oven or oven-safe skillet with a lid, heat the oil over medium-high heat. Dry the chicken pieces completely by tapping them with a paper towel. Sprinkle the chicken pieces with a little bit of salt and the pepper. Cook the chicken until nicely browned, turning regularly, for about 8 minutes in all then remove chicken to a plate. You can get rid of some of the fat in the pan when you have tons, but do leave enough to cook the garlic in the next step.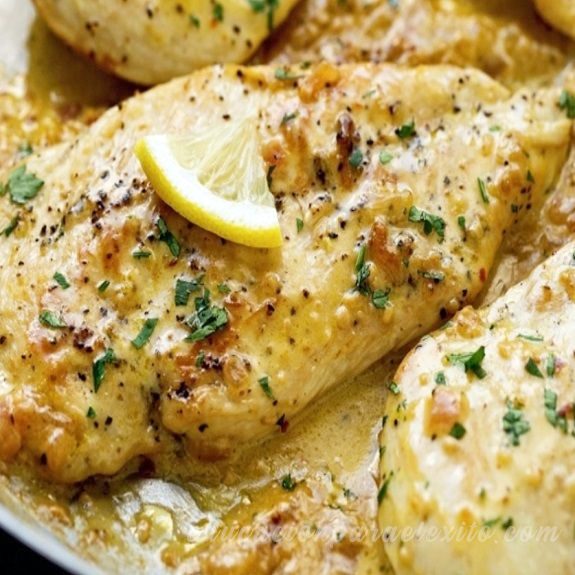 Reduce the heat to medium, add the garlic, and cook, stirring regularly, until it's starting to brown, about 3 minutes. Sprinkle the flour over the garlic and stir till combined. Return the chicken into the pot, cover, and bake for 15 minutes from the pre-heated 400° oven. (If you pan or skillet doesn't have a lid, you can closely cover the shirt with tin-foil instead.)
Remove the pan from the oven and set it onto a burner. Be careful not to touch the hot pot! Remove the chicken pieces from the pan into a plate that is clean. Over medium-high heat, whisk in the wine and simmer for 1 minute. Whisk in the broth, thyme and a little more salt and pepper, then reduce heat and simmer, stirring regularly, until sauce thickens. Turn off the heat and stir in the butter. Taste sauce and add more salt and pepper, if it requires it. Add the chicken back to the pot into re-warm with the sauce. Serve spooned over mashed potatoes, pasta or rice.
Recipe Notes
Make sure you read the"Cook's Notes" in the original post, for more tips, options, substitutions and variations for this recipe!