Lemon Parmesan Salmon and Asparagus Foil Packs – Extremely versatile, they may be baked OR grilled right on your own grill! Low-carb readers have been asking me to remake this Crispy Parmesan Salmon with no bread crumb topping to decrease the carb count, and allow me to say it was a PLEASURE for me to create AND taste test again and again and over again.
SALMON RECIPE :
There's something about a buttery, garlicky, herb mix being poured onto a fresh, wild-caught salmon fillet. To get the dimensions right, however, is a completely different story. If too much lemon belongs in? Bitterness overload. Too much butter? Oily overload. Too much salt? Be cautious of this one. Too much garlic?
HOW to Generate FOIL PACKETS
Freshly grated parmesan cheese moves on top, has baked in a foil packet to keep all of those flavours and juices in the salmon WHILE being soaked and cooked right into asparagus for a whole meal; at less than 30 minutes!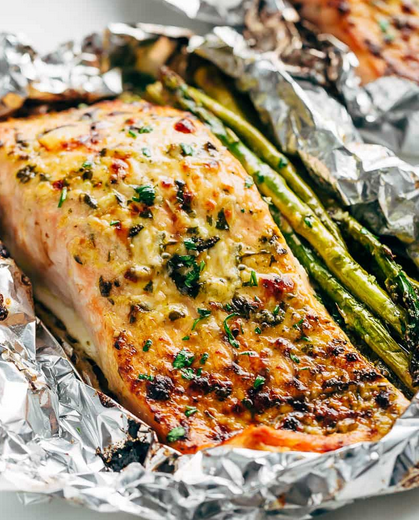 Salmon & Asparagus Foil Packs
With this salmon during testing, I found that we did not enjoy the flavour of packed, powdered parmesan cheese. You know the one which you can find in a can? Yeah….no. It appeared to ruin the natural taste of salmon. Freshly grated, however, is a different matter altogether. Whether you shave it on using a vegetable peeler or grate it, then you will find the very best of flavour utilizing FRESH PARMESAN CHEESE!
Also, if you don't like asparagus, you can easily pair this with zucchini or green beans! If you try it, PLEASE let me know if you love it more than we did!
Ingredients :
Four salmon fillets, skin on or off
1 pound (500 g) asparagus spears, woody ends trimmed
1/3 cup butter, melted
1/3 cup lemon juice, (or juice of 1/2 a lemon)
One tablespoon minced garlic, (or four large cloves garlic, minced)
Two teaspoons fresh parsley, finely chopped (or dried parsley)
Salt and pepper, to season
2/3cupfresh grated parmesan cheese
EXTRA TO SERVE :
Parsley to garnish
Lemon wedges
Instructions :
Preheat oven or barbecue (grill) following instructions below.
Place each salmon fillet in the centre of one 12×18-inch heavy-duty aluminium foil piece. Divide the asparagus into four equal portions and arrange next to the salmon on each foil piece.
In a small bowl, mix the melted butter, lemon juice, garlic and parsley. Pour the garlic/butter mixture evenly over each piece of salmon and asparagus; season with salt and pepper to taste, and top each pack with the parmesan cheese (about 2-3 tablespoons per load).
Tent with foil, tightly sealing the edges to prevent the butter being leaked, to create a foil packet.
For The Oven:
Bake in preheated oven to 200°C | 400°F for 15 minutes, or until cooked to desired doneness. For a crispy top, broil for 1-2 minutes extra until Cheese is golden.
For The Grill:
Grill, covered on medium-high heat for 15-20 minutes, or until cooked to desired doneness.
OPTIONAL: For a crispy top, broil for 1-2 minutes extra until Cheese is golden.
Serve with fresh lemon wedges and garnish with extra parsley.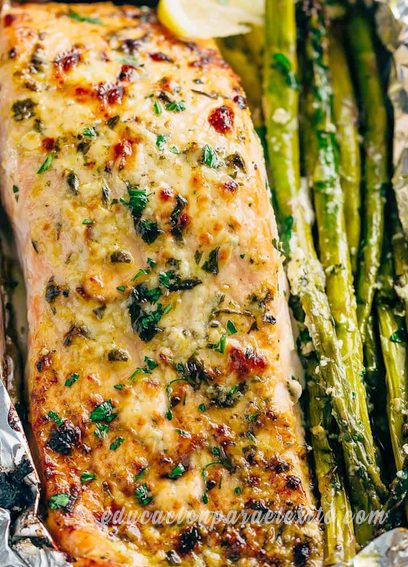 Nutrition
Serving: 340g | Calories: 463kcal | Carbohydrates: 7g | Protein: 41g | Fat: 29g | Saturated Fat: 13g | Cholesterol: 145mg | Sodium: 404mg | Potassium: 1113mg | Fiber: 2g | Sugar: 2g | Vitamin A: 1505IU | Vitamin C: 15.4mg | Calcium: 198mg | Iron: 4mg