Easy Bourbon Chicken Crispy Best Family Recipe For Christmas – Making this Crispy Bourbon Chicken makes me feel as a teenager. A teenager who had been a rebel and once actually took Chinese food into the movie theater! A fast apology to those people who had to watch Dude Where's My Car in LA in the late'90s at a Chinese food scented theater.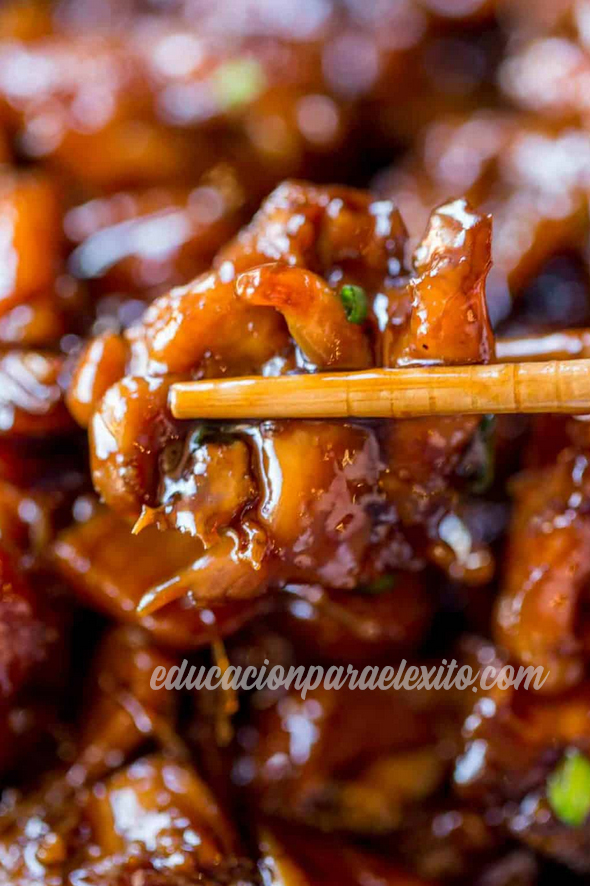 It was an ideal movie to do this in though since the Chinese takeout drive-thru scene still makes me belly laugh. Back to the task at hand, Bourbon Chicken. This chicken is so deliciously sweet and sticky and has a profound bourbon flavor with hints of this apple juice. It's good. Super good.
Is there bourbon in bourbon chicken? Yes! There is, but down it from the sauce so far it merely adds a unique individual flavor and won't impair your driving. If you prefer to skip the bourbon, double the apple juice.
A few tips to make this the ideal bourbon chicken ever:
I used chicken breast since my mall was used to. If you'd like a more tender cut, then use chicken thighs.
If you'd prefer a thicker coating dredge from the cornstarch, dip in a beaten egg, then dredge in a few bread and deep fry.
To make this spicier double the crushed red pepper swap the red pepper for Sriracha sauce.
Crockpot Bourbon Chicken Recipe:
To make in the crockpot, cook the chicken (use chicken thighs) as directed and add in half of the quantities of the remaining portion of the recipe sauce components (they won't be able to cook down in the toaster ). Cook on low for 5 hours. Add from the past tablespoon of cornstarch then cook on high for 30 minutes.
Want more Chinese Food Recipes?
Crispy Sesame Chicken
Cheesecake Factory Mandarin Cashew Chicken
General Tso's Chicken
Easy Mongolian Steak
Panda Express Recipes each one actually: Panda Express Recipes Index
Many more Chinese food choices
Tools Employed in the making of the Effortless Bourbon Chicken:
Wok: Great for high warmth, quick-cooking. This wok is an excellent addition to your own kitchen if you love cooking food or stir-fries in general.
Large Frying Pan: I utilize this Cuisinart for nearly all of my own noncast iron cooking unless I'm going with a stainless steel option, then I pick my All-Clad.
Soy Sauce: Nothing much to say except Kikkoman has the best flavor overall, and I urge reduced sodium.
Ingredients :
5-6 skinless, boneless chicken breasts – about 3 pounds
Three tablespoons cornstarch divided
1/2 teaspoon salt
1/4 teaspoon black pepper
Four tablespoons canola oil
Two cloves garlic minced
1 cup of water
1/2 cup apple juice
1/4 cup bourbon
1/2 cup chicken broth
2/3 cup lite soy sauce lower sodium
1/3 cup ketchup
Two tablespoons apple cider vinegar
1 cup packed light brown sugar
1/2 teaspoon onion powder
1/2 teaspoon ground ginger
1/2 teaspoon crushed red pepper flakes
Intructions :
Note: click on times in the instructions to start a kitchen timer while cooking.
Cut the chicken into 1-inch pieces and in a large bowl, toss it with two tablespoons of the cornstarch, salt, and pepper.
Add two tablespoons of canola oil into your nonstick skillet on medium-high heat and let it heat until adding the first piece of chicken sizzles.
Add half the chicken pieces and cook for 3 minutes without stirring.
Turn the chicken pieces and cook an additional three minutes.
Remove the chicken from the pan.
Use the remaining oil for cooking the second half of the chicken the same way.
Remove the chicken from the pan.
Add in the garlic and cook for 20 seconds until you can smell it.
Add in the water, apple juice, bourbon, chicken broth, lite soy sauce, ketchup, apple cider vinegar, brown sugar, onion powder, ground ginger, and red pepper flakes.
Bring to a boil then add back in the chicken.
Cook for 10-15 minutes or until the sauce is reduced by about half.
Add the remaining tablespoon of cornstarch to a small glass with a tablespoon of water and stir.
Add into the pan and stir.
Cook until the sauce is thickened. Serve immediately.
Nutrition Information
Yield: 8 Servings, Amount per serving: 208 calories, Calories: 208g, Carbohydrates: 8g, Protein: 15g, Fat: 10g, Saturated Fat: 1g, Cholesterol: 67mg, Sodium: 1437mg, Potassium: 272mg, Sugar: 4g, Vitamin A: 105g, Vitamin C: 1.8g, Calcium: 13g, Iron: 1.1g