Shakshuka For Easy Dinner Recipes – There are few more beautiful morning marriages of fresh eggs and veggies than shakshuka. This hearty breakfast dish originated from North Africa and the Middle East but is now famous around the globe because of how filling, flavorful, and easy-to-make it's. We recommend making a huge batch for a crowd-pleasing brunch then enjoying the leftovers (if there aren't any ) as a filling lunch or next breakfast the next day.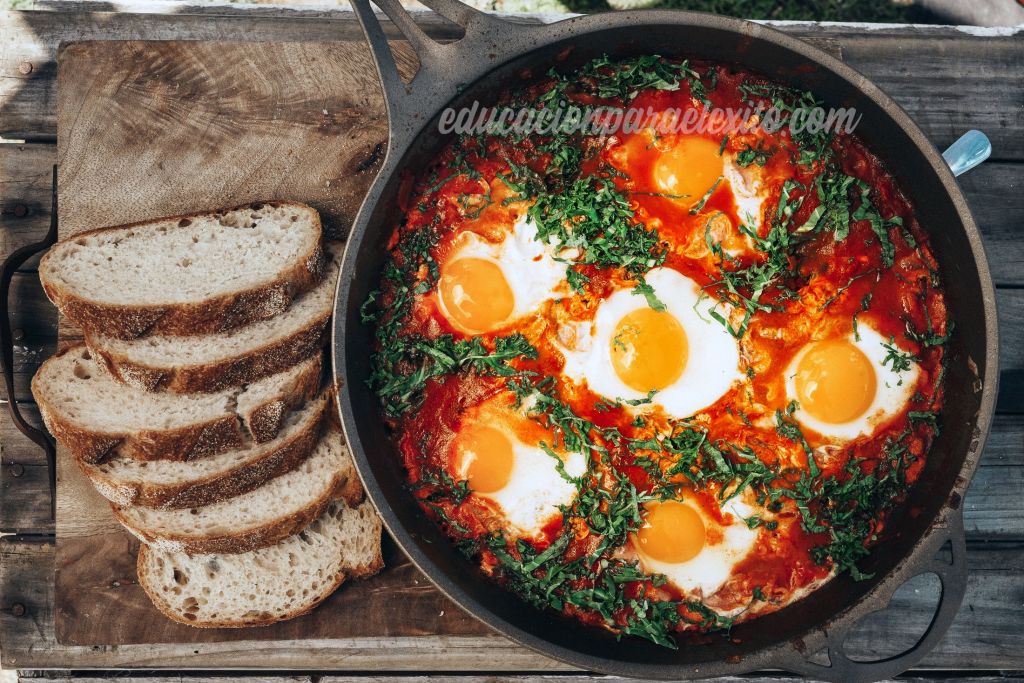 Ingredients :
4 Tbsp olive oil
One medium onion, diced* (reddish or yellow work- use whatever you have)
One red bell pepper, seeded and simmer
Four garlic cloves, finely chopped*
2 tsp smoked paprika
1 teaspoon cumin (use entire seeds in the event you're able to see them!)
1/4 tsp chili powder
One 28-ounce can whole peeled berries
Six eggs*
salt and pepper, to taste
One little bunch fresh cilantro, chopped*
One little bunch fresh parsley, chopped*
*Ingredient available to add to your Imperfect box
Instructions :
Heat the olive oil in a huge sauté pan on medium heat. Add the chopped bell pepper and onion and cook for 5-7 minutes, until the onion gets see-through.
Add garlic and spices and cook an additional minute.
Pour the can of tomatoes and their juice to the pan and then divide the plants with a large spoon. Season with pepper and salt and bring the sauce to a simmer.
Use your big spoon to produce tiny wells from the sauce and crack the eggs into each well. Cover the pan and cook for 5-8 minutes, or until the eggs are done to your liking.
Garnish with chopped cilantro and parsley.
Recipe Notes and Variations :
If you would like a smokier variant of shakshuka, consider having a can of roasted berries.
Shakshuka can be served with pita bread, but you may use anything you have around like toasted baguette, tortillas, or perhaps tortilla chips!
Try topping it with a few crumbled feta or goat cheese or your favorite vegetarian choice. If you do not eat eggs, then you may create a vegan version of shakshuka by integrating chickpeas, tofu, or your perfect plant-based protein to the dish.