Baked Pumpkin Donuts (Gluten-Free and Vegan) – Soft and pillowy roasted pumpkin donuts rolled in powdered sugar for a sweet breakfast treat. These donuts are gluten-free, dairy-free, and vegan, and are wonderful for entertaining for brunch. Fall into Autumn with this easy recipe that is on the table in only under 30 minutes.
Can there be anything more quintessentially fall compared to pumpkin? Alright, maybe apples. But Fall has become synonymous with pumpkin, especially in the past couple of decades. These baked pumpkin donuts are fermented and vegan and PERFECT for a Fall brunch.
When there's one thing that should be pumpkin-flavored. It is these donuts. Pumpkin donuts baked to perfection in just 10 minutes and rolled in powdered sugar to get a totally spiced breakfast treat that tastes like Fall.
Don't get me wrong. I'm not somebody who loves pumpkin spice everything.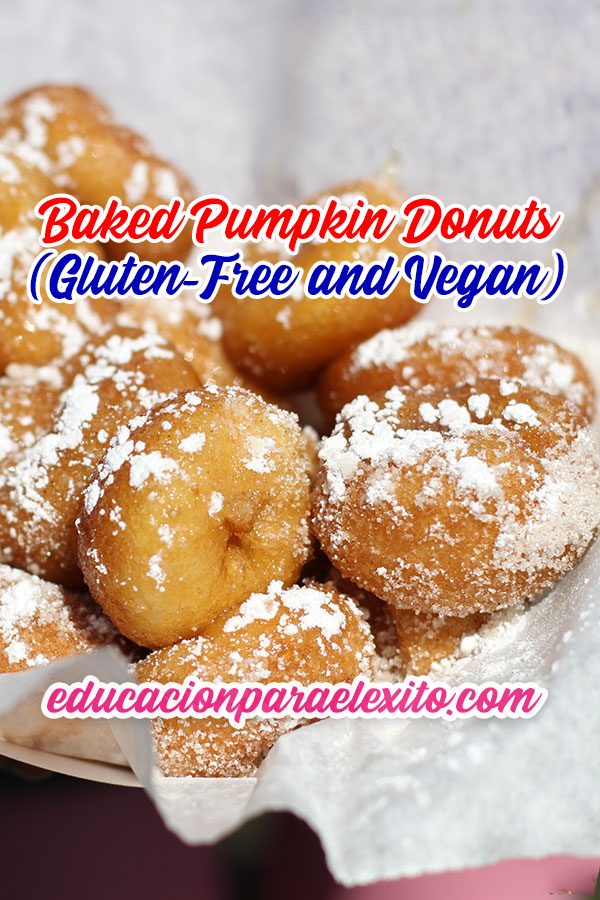 I am personally not a fan of pumpkin spice lattes. HOWEVER, my boyfriend is kind of obsessed with them. As soon as the PSL strikes Starbucks, he is ordering them around the daily. Me? I'm more of an almond milk latte fan myself.
Can I be the only one who understands it's suddenly Fall solely based on the simple fact of the amount of pumpkin spice merchandise they find in the grocery store? Nowadays, there's a pumpkin spice taste of every product offered ever. Do you hear me? EVER!

There's a pumpkin spice assortment. I don't typically buy into it, but I purchased a pumpkin spiced hand soap the other day, so maybe I am turning a new leaf.

And I promise I'm not judging all the pumpkin spice fans out there (just marginally ). I'm not fond of literally everything being pumpkin flavored. Let's just let some pumpkin things be sacred. Okay? Like these donuts.
Can you ever bake your donuts? If not, you ought to. It is SO easy! All you will need is a few simple ingredients and a donut pan, and you are in business. The donut batter just takes approximately 5 minutes to put together, and after 10-12 minutes in the oven, you will have fresh, hot donuts for breakfast!

To make these donuts pumpkin flavored, make sure you use pure pumpkin puree, not the canned pumpkin pie filling which is packed with sugar. We just want the real stuff that is 100% pumpkin.

Then we add pumpkin pie spice for this warm and homey flavor that enhances the pumpkin. I love to keep it available all season long! You could go with a glaze, but to create these donuts even more straightforward, I just like to roll them in powdered sugar once they've cooled somewhat from the oven. It allows that pumpkin taste shine! Although I think a walnut glaze may be high also.
I adore this donut recipe because it's so easily adaptable for different food bites or allergies. I've made it gluten-free and vegan all ready for you, however if you can eat milk, you can easily use regular butter. As always, if you're vegan, be sure to use vegan sugars!
Use Up Leftover Pumpkin Puree With These Recipes

You will only use 1/2 cup pumpkin puree in this recipe, so you are going to have any extra. Use those leftovers up using a few of my favorite pumpkin recipes. Try my Gluten-Free Pumpkin Breakfast Cookies for a leisurely breakfast on the move. My Gluten-Free Vegan Pumpkin Spice Pancakes are another excellent option for brunch. If savory is more your thing, try out this Pumpkin Apple Cider Turkey Chili.

This fermented pumpkin cake out of Flippin' Delicious is just what you want! Craving Fall recipes however still have hot weather where you're? Never fear! This Pumpkin Pie No-Churn Ice Cream from Life After Wheat will keep you new when fulfilling the need for pumpkin!
How to Make Gluten-Free Vegan Baked Pumpkin Donuts

It's so easy to produce this gluten-free vegan baked pumpkin donuts! You can have breakfast on the table in only under 30 minutes using this recipe. Soft, pillowy roasted doughnuts are dipped in powdered sugar for a sweet treat ideal for serving at a gluten-free brunch.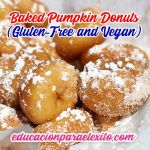 Print Recipe
Baked Pumpkin Donuts (Gluten-Free and Vegan)
Baked Pumpkin Donuts (Gluten-Free and Vegan) – Soft and pillowy roasted pumpkin donuts rolled in powdered sugar for a sweet breakfast treat.
Ingredients
1+1/2

cups

gluten-free-flour-blend

1/2

cup

brown-sugar

1

tsp

baking-soda

1

tsp

baking-powder

1/2

tsp

salt

2

tsp

pumpkin pie spice

1/4

cup

vegan-butter-melted-and-cooled

1/2

cup

pumpkin-puree-not-pumpkin-pie-filling

1/3

cup

unsweetened-almond-milk

1

tsp

apple-cider-vinegar

1

tsp

pure-vanilla-extract

1/2

cup

powdered-sugar
Instructions
Preheat the oven to 350F. Grease a donut pan with cooking spray.

In a large bowl, combine the gluten-free flour, brown sugar, baking soda, baking powder, salt, pumpkin pie spice and whisk together.

Add in melted vegan butter, pumpkin puree, almond milk, apple cider vinegar and vanilla. Whisk to combine.

Spoon the batter into the donut pan wells or pipe it with a pastry bag.

Bake at 350F for 10-12 minutes, until a toothpick inserted into the donut comes out clean.

Let cool for a few minutes and then turn donuts out onto wire rack.

Pour powdered sugar into a shallow bowl. Press donuts into the powdered sugar on both sides.

Best served the same day.