Delicious vegan and easily gluten-free Thai quinoa salad with a great crunch. Fantastic for meal prep lunches, parties or picnics.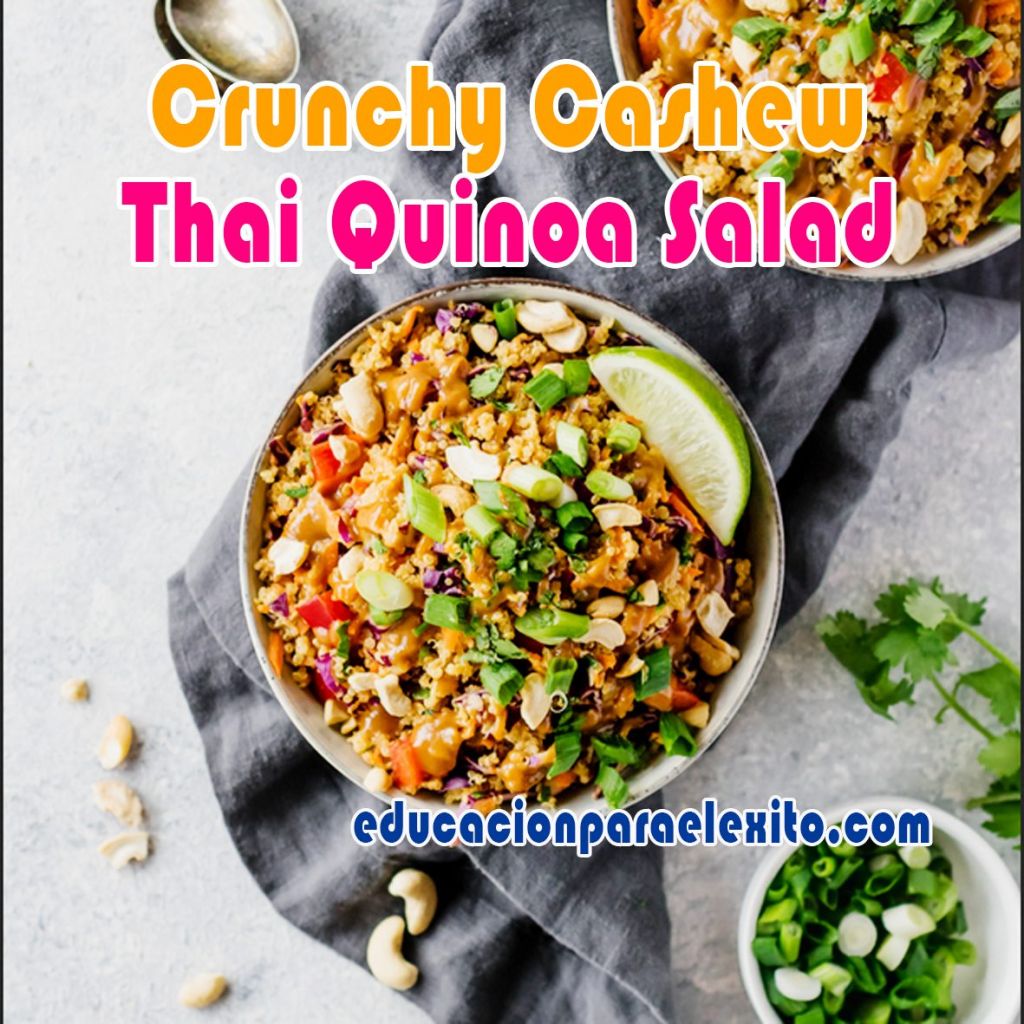 This Thai quinoa salad recipe was originally published in 2013, the year I met with my now-husband. I really don't want to alter this article too much because frankly, I want to keep the written memories about our first date. It's so sweet.
What I did alter about this recipe was the photography and made some alterations to the present method so that it was favorable for those of you who are vegan and gluten-free. Whoo-hoo!
I made this salad a couple weeks back and can't wait to test it again! I love it can easily be vegan and gluten free, and is incredibly crunch-tastic (not a word, but should be). There is loads of goodness here: cabbage, carrots, quinoa, cilantro, cashews, red pepper, onion and more. There is an Asian flavour profile to this vegetarian meal and the creamy peanut butter dressing with a touch of ginger is absolutely TO DIE FOR.
I named it Thai Salad, but can it be that? I'm not sure. In the end, the components all meld together perfectly and somehow the salad functions fantastically — also it is filling too! If you would like to earn this a complete meal or you are craving more, I propose adding edamame or chickpeas.
Oh and enjoy pretty much anything else on this site, I love it in the bottom of my heart. Duh.
I hope you enjoy and thanks a lot for reading. Want to browse all of my recipe posts? Follow my Pinterest.
Please, if you recreate this Crunchy Cashew Thai Quinoa Salad recipe, don't forget to give me star rate or comment below. Thanks!
Try these other Delicious Recipes options: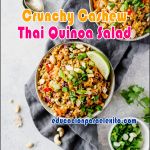 Print Recipe
Crunchy Cashew Thai Quinoa Salad (vegan & gluten-free)
Delicious vegan and easily gluten-free Thai quinoa salad with a great crunch. Fantastic for meal prep lunches, parties or picnics.
Ingredients
3/4

cup

uncooked quinoa

2

cups

shredded red cabbage, depending on how much crunch you like

1

red bell pepper, diced

1/4

cup

diced red onion

1

cup

shredded carrots

1/2

cup

chopped cilantro

1/4

cup

diced green onions

1/2

cup

cashew halves or peanuts (honey-roasted is good)

1

cup

edamame or chickpeas (optional)

Fresh lime, for a bit of tang
For the dressing:
1/4

cup

all natural peanut butter

2

teaspoons

freshly grated ginger

3

tablespoon

gluten-free soy sauce or coconut aminos

1

tablespoon

honey (use agave or pure maple syrup if vegan)

1

tablespoon

rice vinegar or red wine vinegar

1

teaspoons

sesame oil

1

teaspoons

olive oil or more sesame oil

Water to thin, if necessary
Instructions
Step 1
To cook quinoa: In a medium saucepan, bring 1 ½ cups of water to a boil. Add in quinoa and bring mixture to a boil. Cover, reduce heat to low and let simmer for 15 minutes or until quinoa has absorbed all of the water. Remove from heat and fluff quinoa with fork; place in large bowl and set aside to cool for about 10 minutes. You should have a little over 2 cups of quinoa.
Step 2
To make dressing: Add peanut butter and honey or agave to a medium microwave safe bowl; heat in microwave for 20 seconds. Add in ginger, soy sauce, vinegar, and both sesame and olive oil and stir until mixture is smooth and creamy. If you want a thinner dressing, simply stir in a teaspoon or two of water or olive oil.
Step 3
Add as much or as little dressing as you'd like to the quinoa. I always start out with a little bit of dressing and usually add more to suit my taste preferences. Alternatively you can save the dressing for later and add when you are ready to eat; however the flavors of the dressing usually soak into the salad so I love adding it to the quinoa first.
Step 4
Next fold in red pepper, onion, cabbage, carrots, and cilantro into the quinoa. Garnish with cashews and green onions. Serve chilled or at room temperature with lime wedges, if desired.