Rainbow Antipasto Pasta Salad Easy Christmas Recipes - Well, for any of you other antipasto-lovers who may be looking for a way to make decent use of leftover components, today I have the perfect recipe to share with you. It's this vibrant antipasto pasta salad as an astute reader on Facebook indicated I call it, antipasto salad.
It is incredibly fast and easy to make because I am guessing most of those antipasto ingredients you are already in bite-sized pieces. It is incredibly flavorful, with the perfect mixture of sweet and sweet and spicy ingredients added to the pasta, plus an easy Italian herb vinaigrette. It's incredibly customizable, so feel free to substitute in any of your favourite antipasto ingredients you have on hand. And I have to say that I am particularly excited about the fact that it is unbelievably colourful, and certainly will steal the show if you bring it along to a potluck, or pop it right in the center of your dinner table in the home.
So catch your rainbow of components, and let's make some. Cook up a batch of your favorite pasta (I went with some tri-colour rotini), then wash it fast in some cold water to halt the cooking process.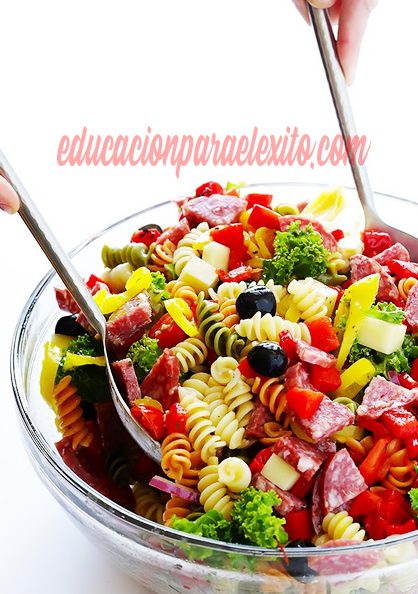 Then while the pasta is cooking, then go right ahead and chop up whatever antipasto ingredients that you may have on hand. (I used salami, diced cheese, cherry tomatoes, olives, artichoke hearts, pepperoncini, roasted red peppers, then I added some leftover kale and red onion into the mix.) Add everything together into a bowl with your cooked pasta.
And then drizzle on a straightforward Italian herb red wine vinaigrette. I made mine using this adorable new little Italian Blend Herb Grinder from McCormick, which I'm obsessed with because you understand how often I use Italian seasoning and this also makes it all the more fun getting to grind it myself. (They also have Basil, Oregano, and Parsley herb grinders available today -- check them out!) I then mixed the Italian seasoning with a few extra virgin olive oil, red wine vinegar, salt, pepper and a tiny bit of garlic powder to make a quick vinaigrette, and then drizzled everything over the pasta salad.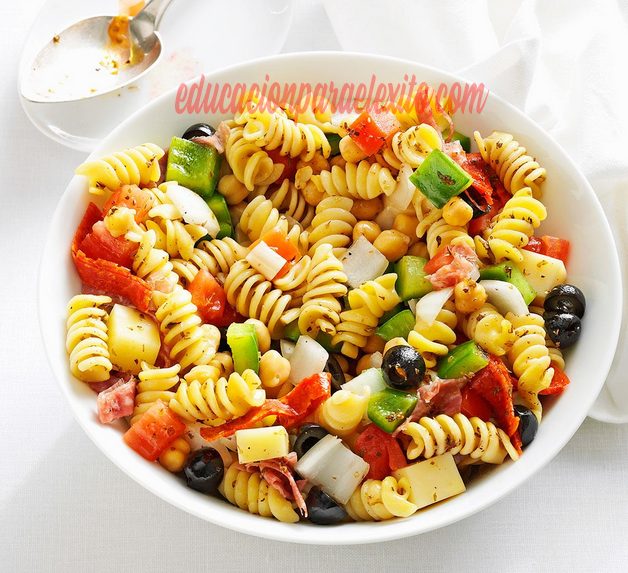 (Really -- a pro tip here -- to soften the lettuce, I added that the kale and a few tablespoons of the vinaigrette to the kale initial . Subsequently I added the other components )
Then I gave everything a good throw. And voila! This beautiful rainbow of deliciousness was prepared to serve. I adored it. And each one the antipasto flavours naturally tied together perfectly, particularly when tied together with that very simple vinaigrette. All the more incentive to make more antipasto platters when they may be followed up with the equally tasty antipasto pasta salad like this one.
Description :
This Rainbow Antipasto Pasta Salad is the best method to use up leftover antipasto ingredients! Additionally, it's simple to create, tossed with a zesty Italian herb vinaigrette, and yummy!
Ingredients :
Rainbow Antipasto Salad Ingredients:
1 pound dry pasta (I used tri-colour rotini)
4–6 cups chopped antipasto ingredients (I used diced salami, mozzarella, cherry tomatoes, olives, artichoke hearts, pepperoncini, roasted red peppers. See below for more ideas.)
1 cup chopped fresh kale, massaged.
a quarter of a small red onion, peeled and thinly sliced
One batch Italian Herb Vinaigrette (see below)
Italian Herb Vinaigrette Ingredients:
1/3 cup extra-virgin olive oil
1/4 cup red wine vinegar
Two teaspoons McCormick Italian Blend Herb Grinder Italian seasoning, or homemade
1/2 teaspoon Kosher salt
1/2 teaspoon freshly-cracked black pepper
1/4 teaspoon garlic powder
Instructions :
To Make The Antipasto Pasta Salad:
Cook the pasta in a large stockpot of generously-salted water al dente according to package directions. Drain pasta and rinse under cold water for around 20-30 seconds until no longer hot.
In a big bowlcombine the cooked pasta, antipasto ingredients, kale, and onion. Drizzle the Italian Herb Vinaigrette on top, then toss to combine. Serve immediately, or cover and refrigerate for up to 3 times.
To Make The Italian Herb Vinaigrette:
Whisk all ingredients together until blended.
Notes :
To soften the kale, I placed it in the mixing bowl first, along with two tablespoons of the vinaigrette, and then used my hands to massage the vinaigrette into the kale for about 1 minute. This makes it considerably softer and will turn the kale a beautiful dark green colour.
The sky's the limit for other antipasto ideas, but in general, I recommend using any combination of:
diced cheeses
Italian meats
olives
grilled, roasted, or marinated veggies
toasted nuts
diced cantaloupe, grapes, or figs (only if you like fruit mixed in)